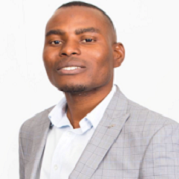 Name: Mr N. Muchongwe 
Designation: Chairperson & Lecturer
Department:Human resources management

Contact Details: nevermind.muchongwe@staff.msuas.ac.zw
Qualifications.
MSc HRM (MSU)
BBS HRM (BUSE)
Research Interests.
Work engagement (WE), Talent Management (TM), Performance Management, Strategic HRM, Human Resource Information Systems (HRIs)
Publications
• Moses Jachi, Abisai Chakaipa, Nevermind Muchongwe & David Chibhoyi (2020). Perceptions Towards Participation in Local Developmental Programs Among Youths and Women. Evidence from the City of Gweru. Zimbabwe. IOSR Journal Of Humanities And Social Science, Vol 25, Issue 5, pg 23-32
• Jachi Moses & Muchongwe Nevermind (2019). Economic Sustainability of Small to Medium Enterprises (SMEs) in Zimbabwe: The Impact of Fiscal Incentives and Entrepreneur Work Engagement. IJST Vol 9, Issue 12, pg17-32.
Membership to professional bodies
IPMZ (Institute of People Management of Zimbabwe)