The Minister of Higher and Tertiary Education, Science, Innovation and Technology Development, Prof. dr. Amon Murwira paid a courtesy visit to the Manicaland State University of Applied Sciences on the 8th of February 2022 to check on the progress of ongoing Infrastructure Development Projects within the Campus.
Speaking during the tour of the University, the Minister commended the Vice-Chancellor for good work and progress with construction projects, he was particularly intrigued by the progress that has been made on the construction of first phase of the Student Services Centre block which is at 98% to completion.
Upon visiting the construction site of the Students' Residence, the Minister gave the Vice Chancellor and his Team a pat on the back for good work and said "May I commend you for your smooth progression of the construction projects, l am surprised that this project is already at 10% to completion". He further encouraged the University to also focus on staff housing on Campus as a way to provide decent living conditions that will attract experts to come and work at the University.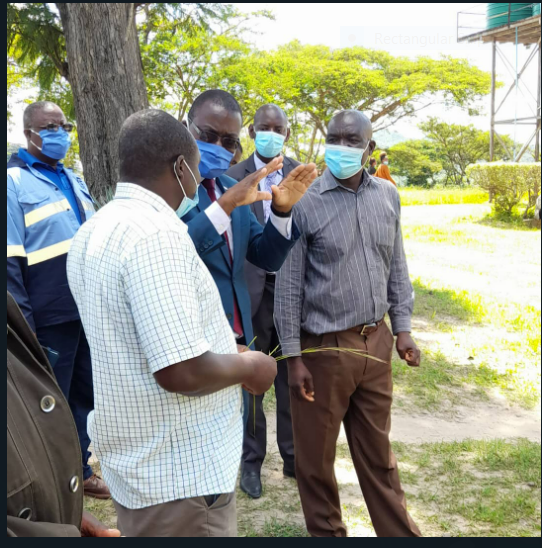 The Minister also took the opportunity to assure the University of guaranteed Government support in the construction of bigger projects that are to come, of additional Students' Accommodation, Staff Accommodation, the Multi-Purpose Teaching and Learning Centre and the Innovation Hub. He further reiterated that the government would further support the University in its Agricultural projects at the Farm by providing equipment for farming to increase the capacity on Agricultural Projects.
"As we forge ahead, we guarantee you government support in other bigger construction projects which are already at an advanced stage and the activities at the University Farm. The President of the Republic of Zimbabwe, His Excellency, Cde E.D. Mnangagwa has a vision of seeing Universities as drivers of the economy and its impressive that MSUAS is tirelessly and keenly following this vision with special focus on Education 5.0 philosophy" reiterated Prof. dr.Murwira.
In his remarks, the Vice-Chancellor, expressed his gratitude to the Chancellor of the University and the Minister for their unwavering support in infrastructure development projects at MSUAS.
"Manicaland State University of Applied Sciences, appreciates the support that we have been receiving from Government. Student Accommodation and furnishing our Laboratories and Facilities with state-of-the art equipment is our main focus now. Having these in-place will ultimately improve our research output as an Institution," said Professor Chawanda.
In attendance were the Director, Higher Education programmes in the Ministry of Higher and Tertiary Education, Science, Innovation and Technology Development, Dr. D. Murekachiro, the Deputy Bursar, Mr V. T.  Japu, the Acting Deputy Registrar, Mr M. Mawombera, the Director Marketing, Information and Public Relations Mrs S Moyo, and the Director of Works and Estates.